The Laryngology Innovation Lab 
We developed the Laryngology Innovation Laboratory at Weill Cornell Medical College with the intent to disrupt and innovate the fields of voice, deglutition and airway science, via transdisciplinary collaborations with engineers, bio-acousticians, designers and social scientists. Since our start in 2018, we have a growing contingent of engineering students and medical trainees joining us every semester from institutions across the Tri-State Area. Our group has received three institutional grants, two foundation grants, two NCATS grants, one NIA and one NIH Common Fund over the past 5 years.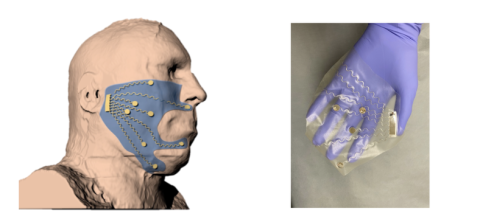 Tattoo-like wearable with embeded EMG electrodes that can be conformed to a patient's anatomy.
MyophonX
MyophonX is an individually tailored wearable device that applies machine learning to silent articulation to restore speech in patients with limited phonation capacity, such as patients with laryngectomy, tracheostomy or hemifacial palsy after stroke. Silent articulation is recorded using surface electromyography (sEMG) on the face and the neck. Machine learning is applied to sEMG data for speech recognition via cloud computing